Reduce tire servicing time by more THAN 90%! Tire Minders are a permanently mounted tire pressure monitoring system. They allow single point servicing for any number of tires mounted on each corner of the equipment.
FEATURES AND BENEFITS:
Rugged Stainless steel and anodized aluminum construction. Built for many years service.
Low pressure stainless steel gauges matched to the tire pressures you typically operate. Gauges are sized to maintain the indicating needle roughly at mid scale, their most accurate and easy to read point.
Gauge protection valve provides safety to prevent gauge damage from the high pressure of inflation. This patent pending cartridge style valve shifts positions when an air chuck is used to inflate the tire. The high pressure is only allowed to enter the tire. When inflating, the gauge is vented for safety.
Heavy duty stainless steel braid hose is used to connect the gauge block to the tires.
Hose connections at the gauge block have a swivel design to facilitate hose alignment and utilize dual o-rings to prevent leaks.
Hoses are connected to the wheel valve stems with either automotive style 90 degree ends or optional heavy duty banjo ends.
Brackets typically fasten over the existing outer wheel valve stem and also bolt to the wheel center to prevent damage from mud and debris. Brackets are made from 12 gauge 304 stainless steel. Wheels do not have to be deflated for installation.
Hoses are routed close to the axle between the wheels for bar axle duals and triples.
Hoses are retained near the axle between the duals with stainless steel band clamps and D-rings to ease hose disassembly in the event wheels need to be removed.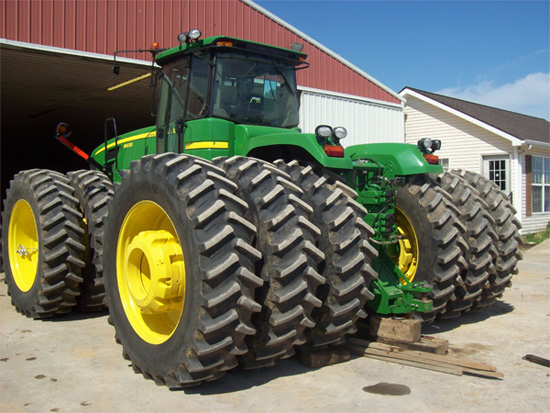 Check the pressure in all these tires in about one minute!
Service from four locations instead of 12.
[ultimate_spacer height="55″]
[ultimate_spacer height="30″]
AVAILABLE OPTIONS / INSTALLATION AIDS
Hose ends
Automotive style– standard equipment. Recommended for those removing dual wheels seasonally. Benefits– easier hose attach/ de-tach.
Drawbacks– slows tire deflation speed.
Optional Heavy Duty Banjo style- Half as tall as the automotive style. Much stronger in mud or debris. Deflate speed is better. Replaces core adapter of standard valve stem.
$6.49 option/ hose
Hose retainers for axle hub spacers
CNH uses short axles on their 4WD tractors. To gain the proper dual wheel spacing, they install a spacer between the dual hub and the dual wheel. This distance can allow the hose to be unsupported.
Retainers are normally supplied at the blue arrows.
An additional hose retainer is available for each spacer (white arrow).
$6.25 ea./ 248 retainer
Corroded or painted valve stem threads and can't get the nut off?
These are 0.482″-26 threads. Hard to find size.
We have thread dies available for rent or purchase to clean up threads.
$95.00 refundable damage fee. $15 rent or
$95.00 purchase.
NEW FEATURE NOW AVAILABLE
Special Gauge Protection for All Tire Minders
All Tire Minders utilize a special gauge protection valve to protect the gauge from the high pressure from an air compressor.
This valve when depressed (with fingers or an air chuck), only allows the pressure connection to the tire. As an added safety feature, the gauge is vented.
Plungers now can be locked down by depressing and rotating 45 degrees clockwise for users inflating with clip-on air chucks, or those deflating large amounts of pressure.