Agricultural Tires 101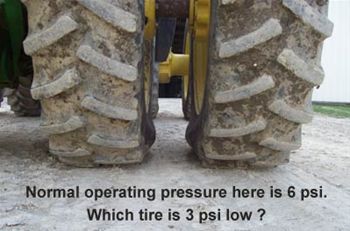 All tires have an ideal operating pressure and footprint (minimum inflation pressure) for:
Operating load
Operating speed
Operating situation
IF ANY OF THESE PARAMETERS CHANGE– THE PRESSURE SHOULD CHANGE
This is the HIGHEST RETURN ON INVESTMENT for:
IMPORTANT! Tires should always be inflated to the heaviest operating load and situation they are used in. If not– damage starts. Tire warranties are voided if correct pressures are not maintained!
DID YOU KNOW?
Operating your tractor tires 6 PSI overinflated may cost you $640 IN WASTED FUEL for 1,000 acres of hard tillage. Based on $4.00 diesel fuel
You are also giving up:
Highest available drawbar pull
Least soil compaction
Best flotation
Best wear
Best ride
But, operating your tires at minimum inflation pressure requires closer management (daily pressure checks) or the use of a central tire inflation system. Minimum inflation pressure is very close to the point of causing damage.
WHY NOT OVERINFLATE?
Tires operating in soil create depressions whose depth is directly related to the tire pressure (more pressure– deeper depression).
As the tires roll, they are constantly trying to climb out of the depressions. In a way, climbing a hill. This takes fuel.
Lower the pressure and the footprint gets larger, less depression to climb out of.
Soil compaction is directly related to the tire pressure– plus about 2 psi for sidewall stiffness. Crop health is compromised due to unnecessary compaction.
Tires slip more in high draft situations due to the smaller tire footprints, not all the available tread is contacting the soil (you bought the tires but you are not getting all the have to offer). More fuel is burned.
Tires wear out faster in the center of the tread.
Operator ride is harsher. Most equipment does not have a suspension system other than the seat and tires.
FINDING THE IDEAL PRESSURE
To choose the correct pressure for the tires involves:
Calculating the tire load for each axle in their heaviest situation (Ex. Hitch up or down, equipment folded or unfolded, etc.) You can find this information in the equipment operator's manual, weigh the equipment by axles on truck scales, or request the tire sales representatives to come weigh the equipment.
Tire situation– singles, duals, triples, hillside work, cyclical loading (combines, harvesters, sludge applicators, etc.)
Tire size
Take this information to:
Your tire dealer
You can find it yourself in the newer operator manuals– tire load and inflation charts
Find the information online with this LOAD & INFLATION TABLE and this calculator
Contact us at Inflation Solutions and we will walk you through the steps.
Call us 937-570-2629 M-F 8-6pm Eastern time or email jc@inflationsolutions.com