AMERICA'S LEADING DUAL TIRE PRESSURE EQUALIZATION SYSTEM
Crossfire TruckDual tires have a set of problems all their own. In motion, the inner tire's temperature increases due to in-board brakes and poor air circulation.
This causes increased air pressure, which expands the inner tire's diameter. As a result, the dual tire configuration is now distorted – the diameters are unequal. The slightly larger tire now carries more weight, wearing faster.
The Crossfire Dual™ Tire Pressure Equalization System:
maximizes tire life by allowing the pressure to move back and forth between the tires as they heat and cool so they are loaded evenly
decreases rolling resistance for increased fuel mileage
cuts maintenance time due to single-point inflation and the visual pressure gauge
improves stability, braking and overall safety
installs in minutes and requires little maintenance
pays for itself in less than a year
American-made and guaranteed for two years
How Crossfire Works
Crossfire is a pressure equalizing and monitoring valve that is mounted between dual tires. It bolts easily to the lug, hub cap, or drive axle end. Properly mounted, air freely flows from one tire to the other, maintaining equal tire pressure and load distribution.
To fully appreciate how the Crossfire system can add 20% or more life to your tires, let's look at a few problems.

Under-inflation
20% under-inflation can cause a minimum 30% loss in tire life expectancy.
With just a glance from as far away as 20 feet, the Crossfire pressure equalization valve indicates an under-inflation problem.

Over-inflation
20% over-inflation can cause a minimum 10% loss in tire life expectancy.
The Crossfire pressure equalizing valve signals can over-inflation problem which can dramatically shorten tire life.
Proper Inflation
Mounted correctly, Crossfire's yellow indicator verifies that air is flowing freely from one tire to the other, equalizing the load.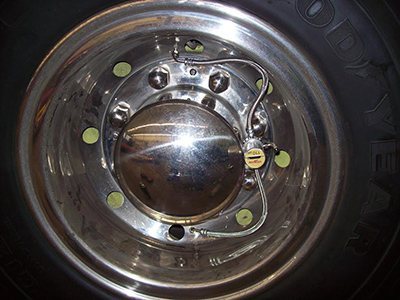 BENEFITS
The Road – The pavement itself causes problems that affect tire wear. Because highways are not perfectly flat, the pavement causes unequal tire loading. As these charts indicate, the Crossfire system drastically reduces problems created by the road.
Install and Save – Every mile you roll with Crossfire, saves you money. Big money. Install the leading dual tire pressure equalization system on the market, and begin saving 20% or more on tire wear.
Blowout and Leaks – Crossfire employs a safety feature that automatically isolates the "good" tire in the event of a blowout. When a blowout occurs, the internal safety valve closes immediately with only a slight loss of pressure to the "good" tire. In slow leak situations, the valve isolates both tires after a pressure drop of approximately 10 P.S.I.
Tips for users:
All users: when installing the Crossfire, apply "Never Seize" or "NOALOX" (aluminum wire oxidation inhibitor) to the 3/8 inch mounting bolt. This will prevent galvanic corrosion between the stainless steel bolt and the Crossfire gauge. This makes dis-assembly for tire changes easier in the future.
Operating on gravel roads: Standard hoses from Inflation Solutions are epdm rubber with exterior braid stainless steel wire. Heavy duty hoses are available (at no extra cost) constructed from single wire hydraulic hose. For either style hose when operating on gravel roads, a 6″ piece of 5/8″ rubber heater hose should be slid over the hose with the straight end before installation to absorb the rocks thrown between the dual tires.
Operating in fall harvest corn stalk fields: once a year, check the inner wheel hose nut torque for loosening. The flexing caused by corn stalk impacts loosens the nut.
Operating in cold environments: The buna rubber seals and o-rings on the hoses are switched for floro-silicone (at no extra cost) to prevent hose leaks in extreme cold such as the Northern United States and Canada.
List: $64.99. Sale price- 4 Crossfires (enough to outfit two axles) for $250
To order, e-mail: jc@inflationsolutions.com
When ordering, please specify:
Wheel size 16″, 16.5″, 17.5″,19.5″, 22.5″, 24.5″
Wheel style- drive/trailer- spoke/Budd/hub piloted
Specify tire pressure- 50-150psi by fives (example-85,90,95,100)
Whether chrome wheel accessories are installed
The amount of gravel roads traveled
Super singles- direction the valve stems pointed
Warranty Information
From the date of purchase, the Crossfire Dual Tire Pressure Equalization System's valve is warranted to be free from defects in materials and workmanship for a period of two (2) years.
All other parts are warranted for one (1) year. Please refer to complete warranty information included with each Crossfire purchased.